Tuesday, 2 September 2014
12:28 pm

languagelog_feed
Yesterday I was skimming the digital New York Times and clicked on the second-from-the-right item in the panel below, without noticing the "paid post" superscript:

This took me to an article about a new smartphone app called Somebody:
Here's how Somebody works: when you send your friend or loved one a message through the app, it doesn't go directly to them, but uses GPS to locate the Somebody user nearest to him or her. This person (probably a stranger) delivers the message verbally, acting as your stand-in.
I thought it was a bit odd that the piece was listed as "By Miu Miu", but hey. And I still didn't notice the small-font superscript "PAID FOR AND POSTED BY MIU MIU":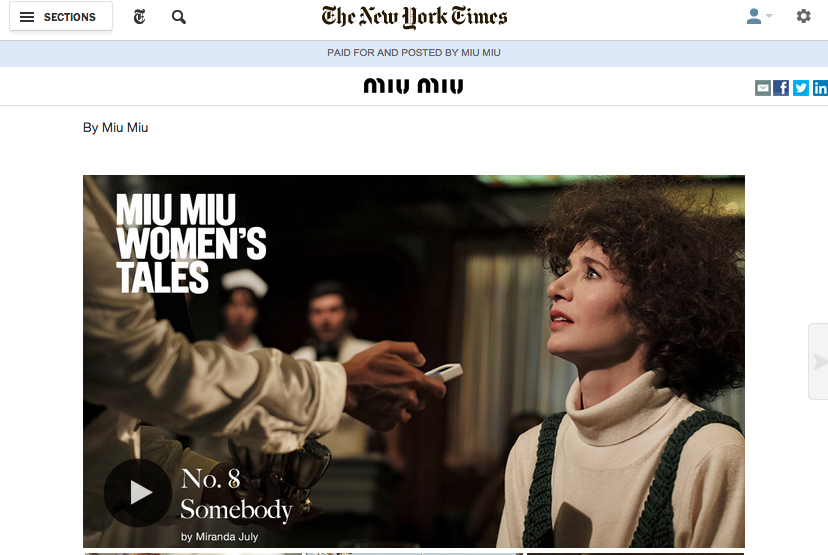 Instead, I read ahead in the article, which describes a short film illustrating the app in operation:
The companion film plays out a number of possible scenarios. Jessica — red haired, sobbing on her bed — wants to break up with Caleb. She opens the Somebody app, types the heartbreaking message, and selects 'Paul' from a list. Paul's phone dings; he accepts the Somebody request. He eyes Caleb having a picnic. Paul — three times Jessica's slight size, and seriously sweaty after a workout — delivers the bad news to Caleb… as Jessica. Paul's is bawling and his arms are flapping. Naturally Caleb is devastated, and Paul is soon on his way.
Somebody, the app, goes on to save best friends Yolanda and Blanca's busted friendship. It allows Jeffy to propose marriage to sad looking Victoria, despite the fact that she's dining alone in a fancy restaurant. And it initiates two prison guards into a sexually enthralling ménage-a-trois with a parched potted plant named Anthony who wants much, much more than just water. "Somebody twists our love of avatars and outsourcing," says Miranda July. "Every relationship becomes a three-way."
At this point, I began to wonder whether I'd wandered into a new NYT deadpan social-satire section. Looking around, I discovered that instead I'd wandered into an advertisement for Miuccia Prada's Autumn-Winter Collection. The "post" eventually gets there:
The power of Somebody is quite literally in everybody out there willing to become somebody else.
Clothing, similarly, has the power to create instant transformation. The styling of July's film for Somebody mixes items from the Miu Miu Autumn/Winter 2014 collection with vintage and street wear. In ten short minutes, action segues from bedroom heartbreak to prim waitresses to erotically challenged prison guards. Ordinary people: me, you and somebody we know.
There's more:
"Technology is like high fashion," explains July, "It's revealed to us mysteriously, season by season and we're not meant to mess with it. But of course it only becomes meaningful when we do. Somebody is really half-human, half-app — I wanted to facilitate the giddy joy that comes from unpredictable, undocumented moments, but the technology depends on a daring human user.
These qualities are central to the hand-made look and feel of the app interface. A mouth button includes actions and directions for your stand-in ('crying,' 'hug.') The recipient can always decline a delivery (if it's not a good time.) And users can rate Somebodies on their performance. If you're feeling bold, "floating messages" are always awaiting delivery (and the rest of us can just read them voyeuristically.)
It took many weeks for Miranda July to think of the perfect name for her new project — it came to her with the perfect tag line: "When you can't be there…Somebody™ can."
Does Somebody™ actually exist? I don't want to know.